2021 Winners and Finalists
The Expert in Mind team are professional, respectful, committed and positive in all that they do. Throughout 2021, we were lucky enough and extremely proud to have our hard work, growth and dedication to the Expert Witness industry recognised through being made finalists and winners of various awards. The level of competition was exceptional making it an even bigger achievement to have been recognised across 3 separate awards!
The first award we won was in the Lawyer Monthly 2021 Expert Witness Awards which was awarded to Company Director and Owner, Zofia Ludwig, for her knowledge within the area of Mental Health. Zofia began her career in the medico-legal world working in the Expert Witness department of The Priory Hospital in East Sussex back in 2005. It was from here that she started her own company and having forged excellent working relationships with all the Experts, Zofia was asked to take over the panel when the Priory decided that they were unfortunately closing their Expert Witness Department. The panel has since expanded and continues to recruit reputable Experts selected for their experience in the field of mental health. Zofia is incredibly proud to have won this award again as she champions having specialised knowledge for the benefit of all.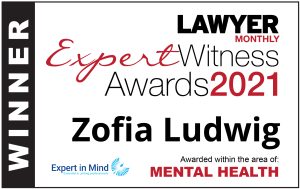 Later on in 2021,  Expert in Mind was selected as a finalist for Medico Legal Provider of the Year at the 2021 Personal Injury Awards. This was a big category with 8 companies shortlisted. We are committed to helping those who have suffered injury through life changing accidents or medical negligence and have been finalists for this prestigious award previously. It is also for this reason that at the start of 2020, we partnered with Combat Stress – the UK's leading charity for Veterans' Mental Health who help former service personnel deal with trauma-related Mental Health problems such as anxiety, depression and post traumatic stress-disorder (PTSD). Working in the Mental Health industry, the team see first hand how difficult it is for those who deal with illnesses like these on a daily basis.  This charity raises money for those who have served for our country, and their families, to access the help they need. Throughout 2021, we hosted a BBQ in support of Armed Forces Day and Zofia, Company Director, ran the London Landmarks Half Marathon to raise money for this charity. We also attended their Charity Dinner. In 2022, members of the Expert in Mind team are putting on their running shoes again to raise more vital funds for Combat Stress.
We take great pride in the work we do and believe the feedback from our clients speak volumes for this:
"Both myself and my team of clinical negligence practitioners have used Expert in Mind for a number of years. We have always been impressed by the professional and knowledgeable administrative team who are always there on hand to make suggestions and ensure that reports are received as quickly as possible. They have a wealth of experts who are extremely experienced in their relevant field who provide clear and concise reports. I would not hesitate to recommend Expert in Mind to other practitioners." – Girlings Solicitors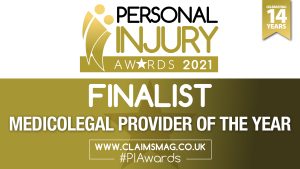 Last but not least, we attended the 2021 Growing Business Awards as we were finalists for the Triumph Over Adversity category. As for many, COVID-19 meant that we faced many challenges as a company and an industry. Despite this, Expert in Mind continued it's year on year growth. The team worked from home for many months and although we were apart, we ensured that we continued to work together as a strong team. We had three new recruits who were due to start with us just as each of the lockdowns were implemented.  Determined to work round the restrictions, we trained them via Zoom with the help of screen sharing and a totally revamped training manual. Due to increased staff numbers we had to move to larger premises and managed to find a brand-new office and moved in April 2021 where the team and company continue to thrive.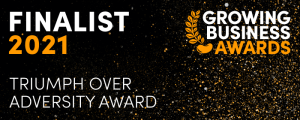 Watch this space and follow us on LinkedIn using the link below for what 2022 has in store for the Expert in Mind team!